What We Can Do For You
From concept to start-up, Fortress can work with you every step of the way. Our specialty is midstream and downstream facilities, though we remain a presence across the industry. Terminaling, storage, pump stations, pipelines, gathering systems, custody transfer metering, truck and rail loading and unloading, LNGs, NGLs, blended bitumen, light oil are some of our areas of focus.
We offer full discipline engineering including:
Process Engineering
Mechanical Engineering
Project Management
Civil and Structural Engineering
Electrical Engineering
Instrumentation
Automation and Control Systems
Functional Safety Management
Procurement and Expediting
Quality Control
Regulatory and Environment Services
At Fortress, we make clients' satisfaction our number one priority. We ensure our works can turn projects into safe, long-term and profit-generating assets. As we enter the new decade, Fortress continues making the following commitments: (1) Uphold the integrity in facilities engineering, and design; (2) Serve our clients by protecting their domestic and cross-border assets; and (3) Streamline communications and work process to achieve efficiency.
What makes us unique, is through our experienced, reliable, and qualified technical personnel, we bring innovation, design, quality to the finest level. We will execute projects that are fit-for-purpose, on budget and on schedule, making our companies including Fortress Engineering (USA), Fortress Engineering (Canada), Fortress Construction Management and Fortress Alternative Energy great partners.
We Will Help You Succeed
Fortress is a multi-discipline Engineering, Procurement and Construction Management (EPCM) consulting firm with global headoffice located in Calgary, Alberta. Together with other North American offices located in Houston, Odessa, Carlsbad and Pittsburgh, our mission is to provide Engineering solutions that balance cost, quality and scheduling for projects of all sizes through senior experience.
We believe that a strong relationship through transparency and accountability is what sets us apart. This is the core foundation we use with every client we work with. Our vision is to bring integrity back to the Engineering business, something we noticed has been lacking.
Our team has a passion for innovation and efficiency. Through our collective knowledge and experience, we get the job done right, and on time. Everyone in our company across North America has a unanimous goal of ensuring your assets are successfully developed in a cost-effective manner.
How We Help You Succeed
Fortress has a highly specialized team that aims to learn and fully understand our client's needs specifications and guidelines to successfully complete each project. Everyone we work with deserves our very best. For this reason, we have a dedicated team of professionals assigned per project that will not be removed or switched out once the project has been started.
Kurt Horner, President believes that, "For the types of projects Fortress deals in, success is about experience and a senior team of professionals dedicated to getting a particular activity done in a timely manner."
Fortress thrives on its multi-discipline nature. It is of paramount importance for us to maintain open communication between departments. Our team of professionals come from very diverse backgrounds and have a broad spectrum of support. This gives us an advantage to create and innovate solutions while working on your project.
CLICK HERE to contact us.
The Fortress Formula
Invest the correct amount in the engineering phase and the bulk of the cost will be properly scheduled and controlled for the duration of the project.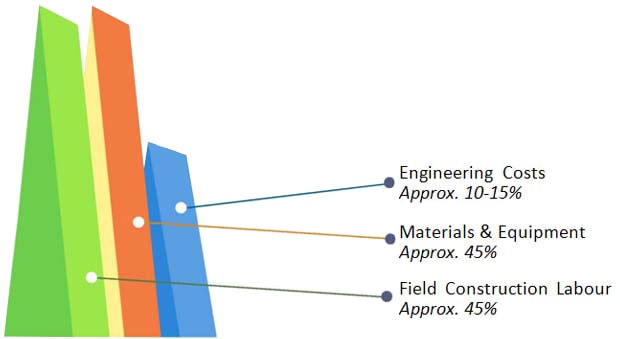 Interview featuring Jim Benedict, President of GeoMetrix Rail Logistics with Kurt Horner and Sean Roberts, President and Vice President of Fortress Engineering.
The Fortress Advantage
Our personnel are dynamic and creative people. At Fortress, we believe that they are our greatest asset. Without them, we wouldn't be where we are today.
Fortress values our people and appreciate the high level of experience and expertise they bring to our team. We go above and beyond to ensure that we only bring in passionate, committed and highly qualified people who work well in team settings to become part of our Fortress family.
We are always looking for amazing and talented individuals. If you want a career in a fast-paced and growing company;
CLICK HERE to submit your cover letter and resume.
The Fortress Story
In 2007 our President, Kurt Horner, took a risk – and we are so happy that he did. Five exceptional experts in their respected industry continued to build a multi-discipline engineering company based on the principles of accountability, excellence, and innovation.
Since its inception Fortress has continuously been providing engineering and design solutions to various areas within the oil and gas industry and beyond. Hours of hard work, dedication, and determination has grown Fortress into company that exists today.

CLICK HERE to get to know the founding partners of Fortress.